"Holy. Sweet. Mother. Of. Pearl.
I started seeing this all over my Insta feed being recommended by every Pam Beth and Sherry and thought I'd give a try for myself. Trust me when I tell you I just spent the last 45 mins with my toes curled, shallow breathing, legs shaking and enjoying consecutive orgasms (something that has NEVER happened) all thanks to setting 5 🤤
LBDO ILYSM."
"Mind blowing - I've been eying it off for months and I have been missing out.. Orgasmed in 30 seconds!! Amazing thank you for a brilliant product."
"Changed my sex life! I am more in the mood now that I have this! My husband loves me having it just as much! Amazing customer service too!"
"My friend introduced me to this vibrator; changed my life! Honestly the best vibes for I have ever used, hands down."
All levels of experience
The perfect vibrator for any level of experience. No matter where you are on your sexual wellness journey, this vibe will match your vibe.
Safety first
Essensual Vibe is made of 100% medical grade, non-porous, bacteria-resistant silicone so you can focus on your pleasure in safety and comfort.
Made to sit out on display
We designed our Essensual Vibe to be powerfully pleasurable, but visually subtle. Made to sit proudly alongside your skincare and fragrance.
Frequently asked questions
The Talk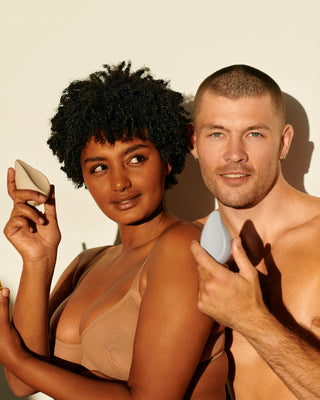 Things with your partner are going really well. They've met your friends, they've met your family, is it finally time for them to meet... your vibrator.  Chances are if you...
The prevalence of the vibrator in a bedroom setting – solo or partnered – has proliferated in recent years, with the orgasm-inducing, subtle rumbling of silicone offering the promise of...